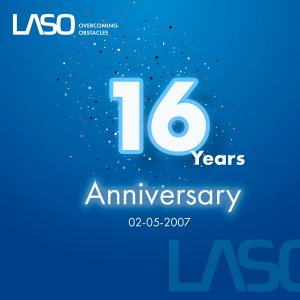 Today is the day LASO celebrates 16 years.
The beginning is celebrated, the union of two competing transport companies, Lamarão and Solenha, becoming in these 16 years, more than a company, a Family.
It has been a challenging journey, with several obstacles in our path, but overcoming them by making our slogan stand out, learning and evolving. The internationalization is one of the main vectors of growth and aware of the challenges ahead, with the usual resilience that all objectives and ambitions will be met.
With hard work, a spirit of mutual help, personal and professional growth and, above all, respect, LASO is today a company of people who work aligned to achieve the same goals.
A special thank you to all employees who face challenges every day and find a family here.
To our customers, suppliers and partners, thank you for being every day and placing the trust in us that makes us who we are.
LASO is this big team, this big family, it's us. We are and will continue together!
Congratulations Family, Congratulations Laso!
By the Administration,