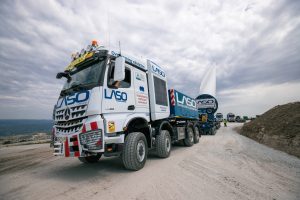 LASO completes the installation of two Vestas – V150 turbines, with blades with approximately 75 meters, originating from Spain, Daimiel. Emphasis on the use of  Blade Lifters, to respond to the constant challenges of a transport of this scale.
The tubes were transported from Carballiño, Ourense with transfer to the axis lines through our gantry cranes.  As for Nacelles, Hub and Drive-Trains, they went directly from the Port of Aveiro to Celorico da Beira.
In addition to the coordination and planning necessary for the success of this project, with a team composed of: Engineering, specialized technicians, drivers and pilots around 25 people.
The investment in new equipment has been a constant bet keeping LASO at the vanguard of special transports, enabling us to continue to give the best answers to the constant challenges presented by the manufacturers and installation locations.
LASO, Overcoming Obstacles.